Faculty Mentoring Workshop
in collaboration with American Institute of Pakistan Studies (AIPS)
November 28 – December 5, 2015
conducted by Zahid Chaudhary, Iftikhar Dadi, Hammad Nasar, Brian Stone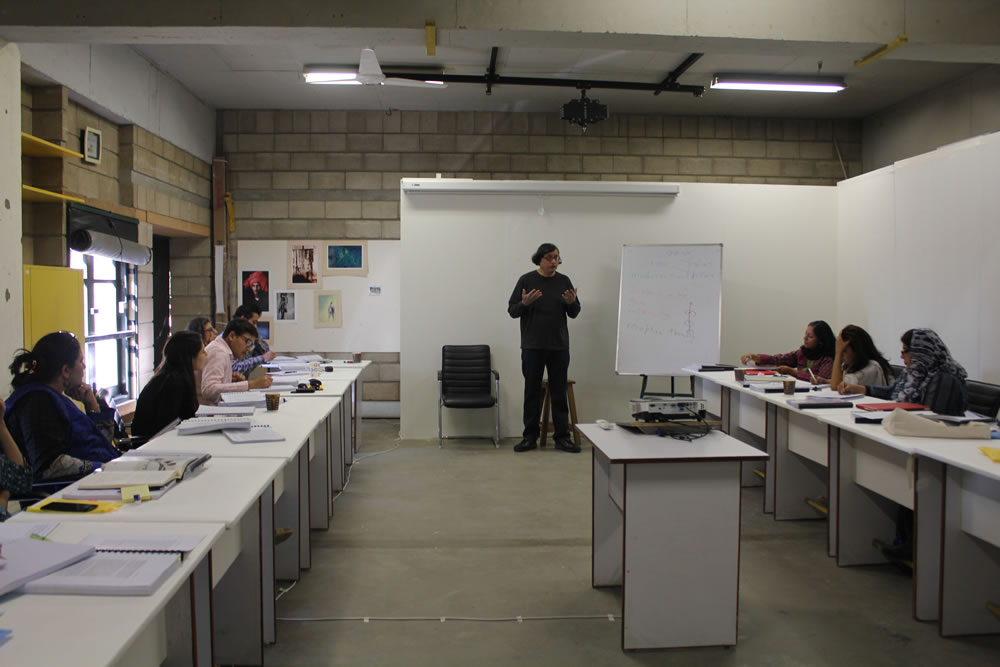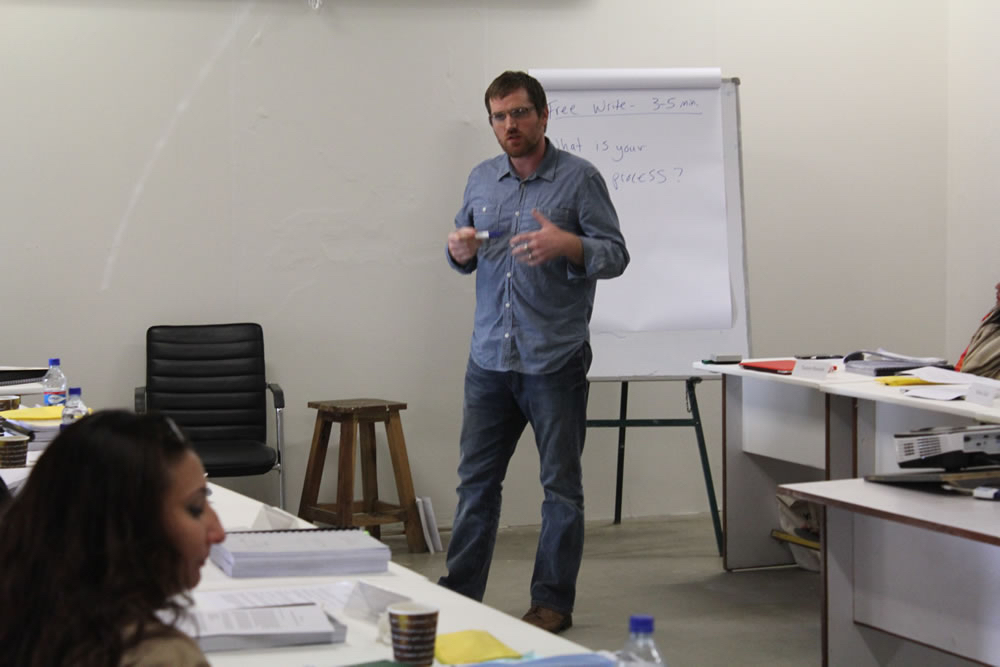 VASL Artists' Collective, with the support of The American Institute for Pakistan Studies, USA and in collaboration with the Princeton University, USA and Indus Valley School of Art and Architecture, Karachi, held a Faculty Mentoring Workshop in December 2015. The workshop was aimed for junior and mid career faculty members teaching in fields of art and cultural studies in various institutes in Karachi.
The faculty mentoring workshop aimed at developing curriculums and research strategies for teachers at graduate and undergraduate levels, keeping in view an apparent void of analytical cultural studies in Pakistan.
Cultural and visual analysis is very salient in understanding the history and the current state of society in Pakistan and beyond. Participants included faculty in the higher education sector from Karachi. The workshops focused on assisting participants in developing their own curriculum and teaching at the undergraduate and graduate levels, and provided them with frameworks useful in furthering their individual research projects. The workshop included readings in theory and practice, guest lecturers, and workshops on writing and curriculum development. While the seminar did not focus on studio practice, its focus on methodological questions concerning history and theory proved useful for artistic practice.
With a variation of theoretical readings, the workshop covered complex literature, art history and its relevance for today, academic writing and new ideas or strategies for teaching material. Most participants found that the combination of art and cultural studies to be extremely beneficial and applicable to both their own practices as teachers and independent researchers.  Combined with guest lectures, the workshop focused on curriculum development, creating a constructive framework for projects and new ways to engage with cultural studies.
Vasl accepted applicants from junior and mid-career teaching professionals in the fields of art history, cultural studies, media studies, and theory and methods in studio or related disciplines to participate in the 2015 Faculty Mentoring Workshop.
Participants in the workshop included 14 faculty members from the following institutes:
D H A College for Women, Habib University, Indus Valley School of Art and Architecture, Shaheed Zulfiqar Ali Bhutto Institute of Sciences & Technology, University of Karachi and Beaconhouse National University.
Iftikhar Dadi is Associate Professor at Cornell University in the Department of History of Art. He also served as Chair of the Department of Art (2010-14). Publications include the book Modernism and the Art of Muslim South Asia (2010), the edited monograph Anwar Jalal Shemza (2015), and essays in numerous journals and edited volumes. Co-curated exhibitions include Lines of Control (2012). As an artist he collaborates with Elizabeth Dadi, they have shown widely internationally.
Hammad Nasar is a curator, writer, and Head of Research and Programs at Asia Art Archive, Hong Kong. Earlier, he co-founded the London-based arts organization, Green Cardamom. Nasar's significant curatorial projects include: Lines of Control; Drawn from Life; Beyond the Page; Where Three Dreams Cross; Fatah Jay Aassay Paassay; and Karkhana. He serves on boards and juries for numerous institutions internationally, including: Art Basel, Delfina Foundation, Lahore Biennial Foundation, San Art, Tate etc and V&A Museum.
Brian Stone is Assistant Professor in English at Huston-Tillotson University where he teaches a wide range of writing courses. His research interests focus on cultural rhetoric and writing studies generally conceived. More specifically, Brian has published several papers on early medieval modes of mythological composition and early medieval religious discourses and is at work on a book length study of writing practices in early medieval Ireland. Currently, Brian is also conducting a qualitative research study investigating the rhetorical strategies of African American students in freshman composition classes. This research reflects Brian's interests in critical pedagogy, social justice, and the disciplinary specific nature of academic writing practices.
Zahid Chaudhary is Associate Professor in the Department of English at Princeton University. He teaches in the areas of visual culture, postcolonial studies, and film. Publications include Afterimage of Empire: Photography in Nineteenth-Century India (2012), and numerous articles in academic journals.