FESF Youth Training Workshop
in collaboration with Azme Naujawan
September 12, 2018 & October 3, 2018
conducted by Adeela Suleman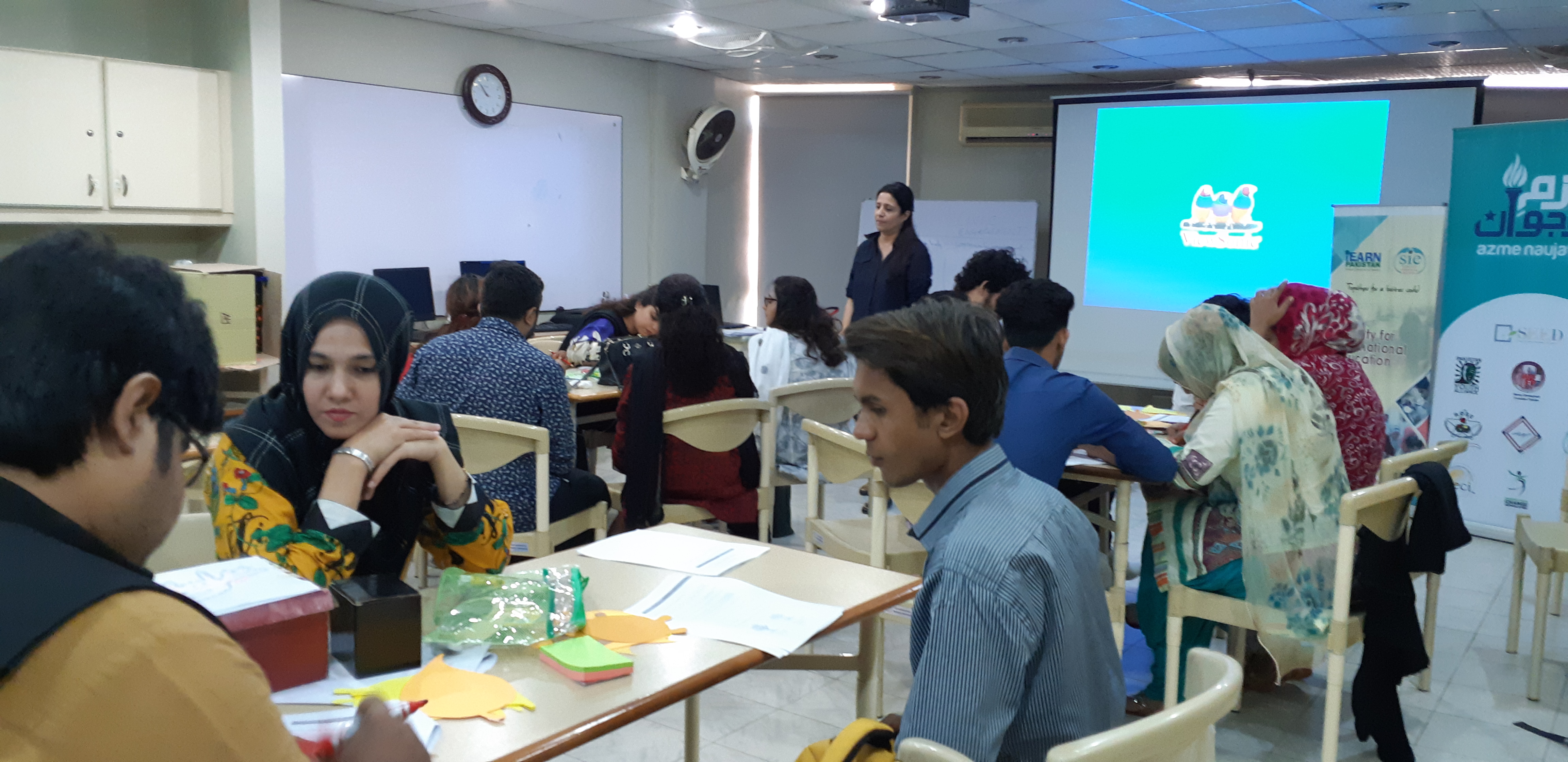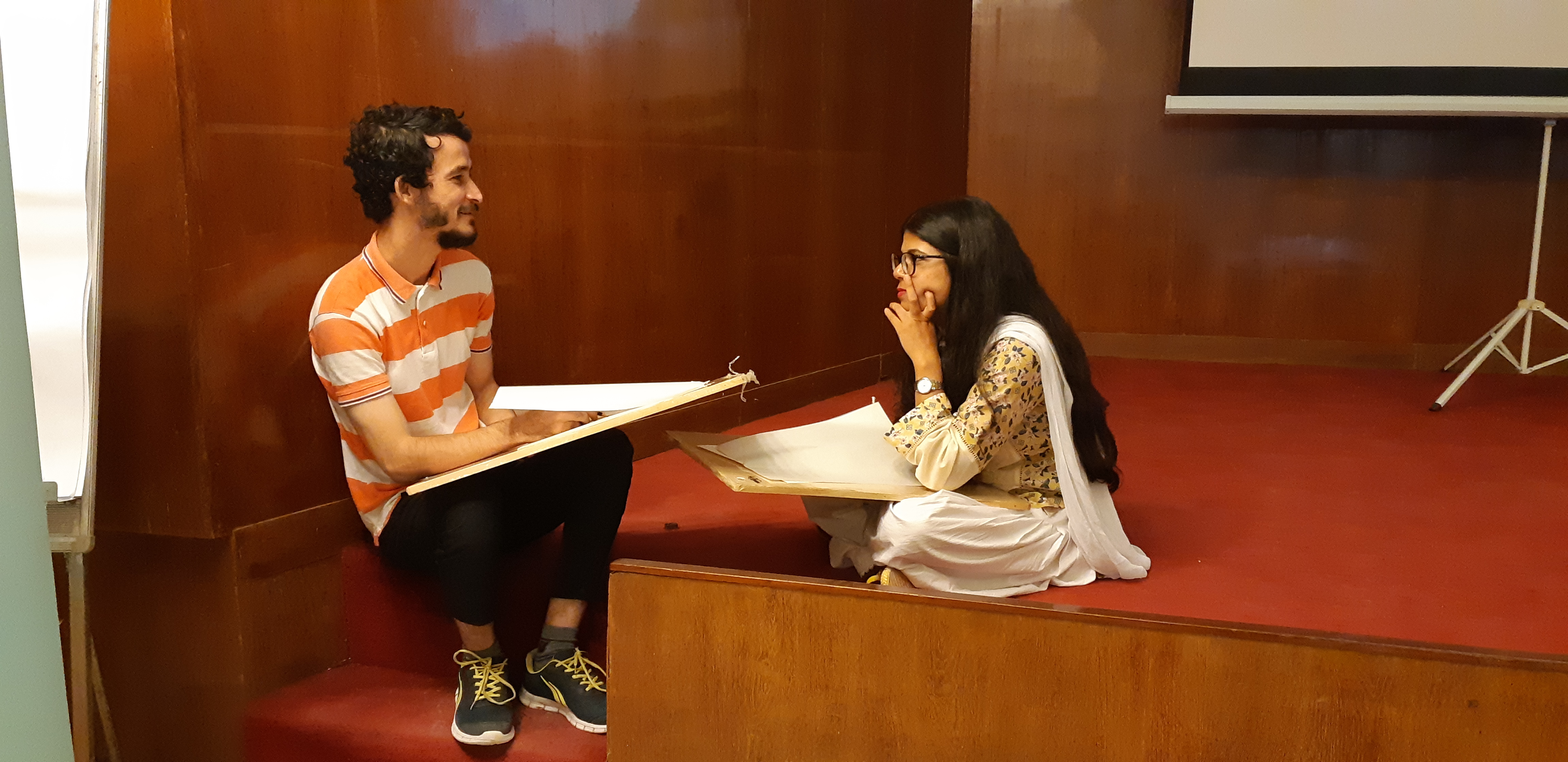 The curriculum for the workshops was designed to introduce a unique and diverse comprehension of art and culture to participants who could further apply those methods to create an all-rounded, inclusive and creative schooling approach. The participants, who were young teachers represented six different community centers in Karachi such as Lyari, Ibrahim Hyderi, Sachal Goth, Mauripur, Chakra Goth and Sakhi Hassan. Workshops were divided over two days and were held at Pakistan Institute of Management, Clifton and Society for International Education, P.E.C.H.S, Karachi. 
The three-tiered workshops began with an introduction to art. Part one of the first day streamlined questions like 'what is art?' and 'why is art important?'. The objective was to give the participants an integrated understanding of art and its significance and cultural relevance. It highlighted the various forms of art like theatre, music, dance, architecture, fashion, poetry, etc. which lead to the recognition of all these forms being an integral part of our cultural heritage. Part one concluded with activities where participants were asked to doodle their past experiences and define their ethnic and national identity under various categories of art. In addition to this, discussions were held on banning art and what the participants knew of bans imposed on artists including present day bans on movies. 
Part two of the presentation spoke about creativity and how it is not restricted to artists. The objective was to enable participants to think and be creative in all aspects of life, overcome fear of self-expression and strengthen their cultural identity. Art was equated to science and creativity was explored to its infinite possibilities. Concepts of curiosity, open-mindedness, imagination and problem solving were discussed and a blind contour drawing activity was conducted. The activity reminded participants that there are no right or wrong methods in art and things can be distorted to express and communicate. The discussion then moved towards art and identity, examples of various artists who express their personal identity through their work were shown, such as truck art: through the use everyday local imagery of peacocks, landscapes, birds and slogans, indicated the truck drivers home town. The session concluded with the participants creating a cultural banner celebrating each other's differences.
Part three, on the second day, focused on art and its power to communicate, create a community and call for change and how artists have used their work to spark conversations on a national scale. Examples of the Baldia Factory inferno exhibition, Awaaz and I AM KARACHI-Walls of Peace were shown to the participants. The former was one of the largest public art exhibitions organized by the art community of Karachi and made such an impact that it was quoted in the court proceedings and strengthened the victims' case. The latter was a movement to reclaim the walls of Karachi and conjure civic activism and responsibility to protect the city. 2500 walls were painted, the Governor took an initiative to whitewash all the walls of Karachi that had hate speech and political slogans and the citizens made a slow but steady effort to keep the walls clean. In addition to this various paint companies also took the task forward and painted landscapes and monuments on the walls as advertisements. Lastly, participants were asked to explain the term civic engagement and social activism, according to their own understanding. They then had to identify a problem in their community and present a solution through an art activity. 
Handouts were distributed so the teachers could keep the practice ongoing at home and in schools.