Reminiscences
Mohan Das
in collaboration with  T2F & The Gallery T2F
November 23 – December 3 , 2022
A TABLE FOR TWO 
One yearns for freedom, a state in which artist is not locked into a style, or an exhibition is not limited to one type of imagery. A one person's show can comprise various personalities within one individual. Or at least two, as is the case of Mohan Das' solo at the Gallery T2F. An artist born in Shehdadpur, worked as a cinema board painter in Hyderabad Sindh, studied art at the Sindh University, Jamshoro, taught drawing and painting courses at the Indus Valley School of Art and Architecture, lives and paints in his home/studio in Karachi.
The travel between blown up pictures of Sultan Rahi and Anjuman, to reproductions of works from the European art history, to observing modern tools of drawing, capturing, copying, and image making such as camera, computer – is the saga sighted in the art of Mohan Das. His work also reveals two streams of time.  Reality of the present and reality of the past merge in his superbly rendered canvases. In his paintings one could read some other links too; between here and there, between pleasure and products, between actuality and its representation in art.
Das explores these dimensions in an intelligent way. Choice of imagery, its connection with another visual, the composition of diverse pictorial elements, and the preference for a certain light convey many messages. Actually in his art medium is the message, because the way Mohan Das has manipulated technique of oil painting, that defies the barriers and burdens of periods, movements and various labels of art history. In a true postmodernist scheme, Das approaches his imagery, as a blend; which becomes true identity and voice of the artist.
Self-portraits and photographs of artists, at their work (like Jackson Pollock dripping colours on canvas) are juxtaposed with visuals associated with them. The body of his new works, is derived from the art historical resources but is an attempt to investigate the inherent aesthetics between ages, styles, makers, perceptions and depictions.
In a sense his paintings belong to the multitude of human expression and creativity. Mohan Das attempts to extend the narrative of old masters and modern stars, through an extraordinarily built language. These elaborations are unusual, uncanny and unpredictable, hence the power of images, created by Das.
One feels that in his latest and the best series of works, the artist has revisited his earlier training of cinema painting, in which reality and fantasy is stitched to produce a new and exciting entity. In the paintings by Mohan Das the reality turns remarkable and the fantasy becomes fantastic.          
– Quddus Mirza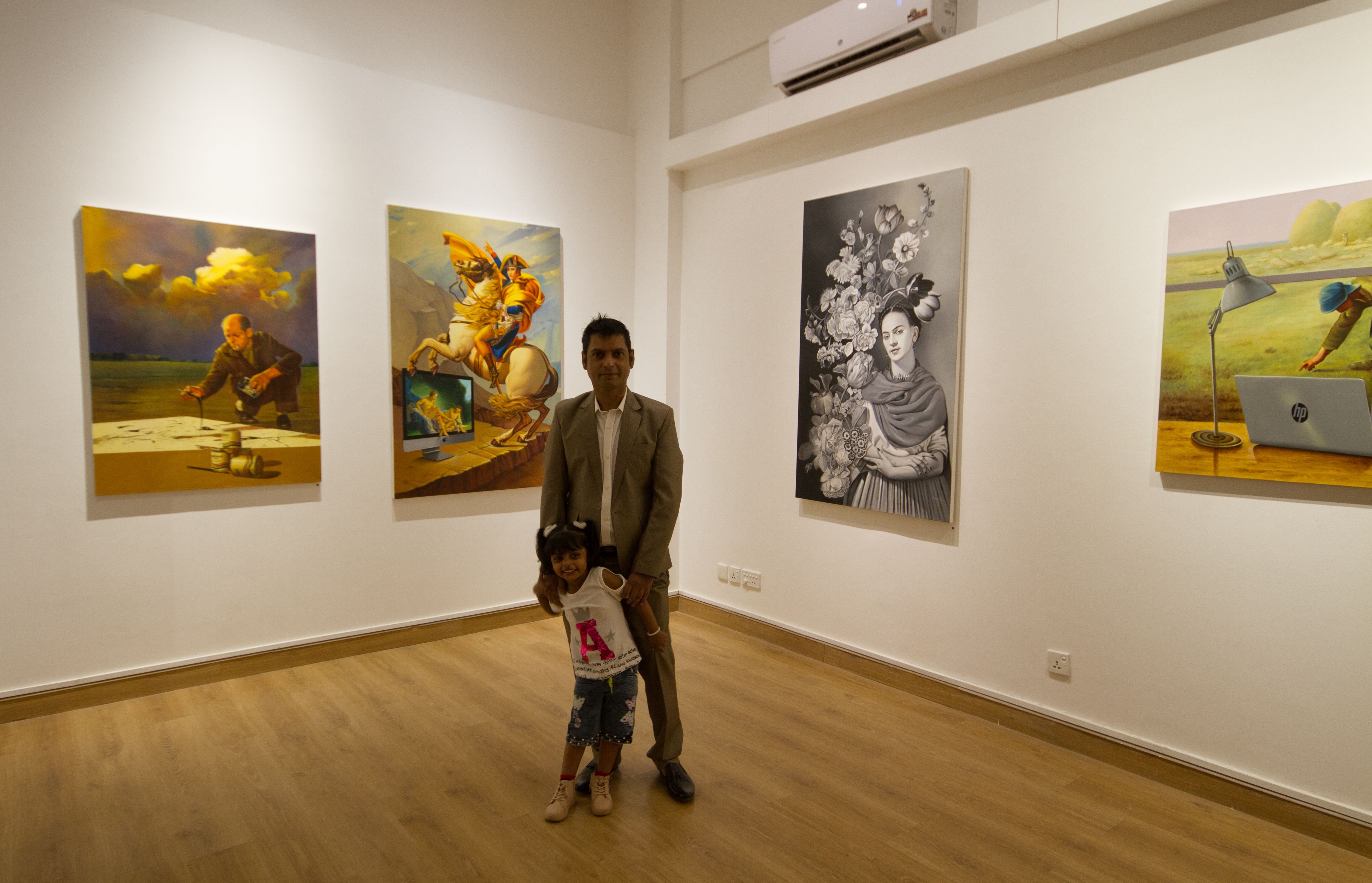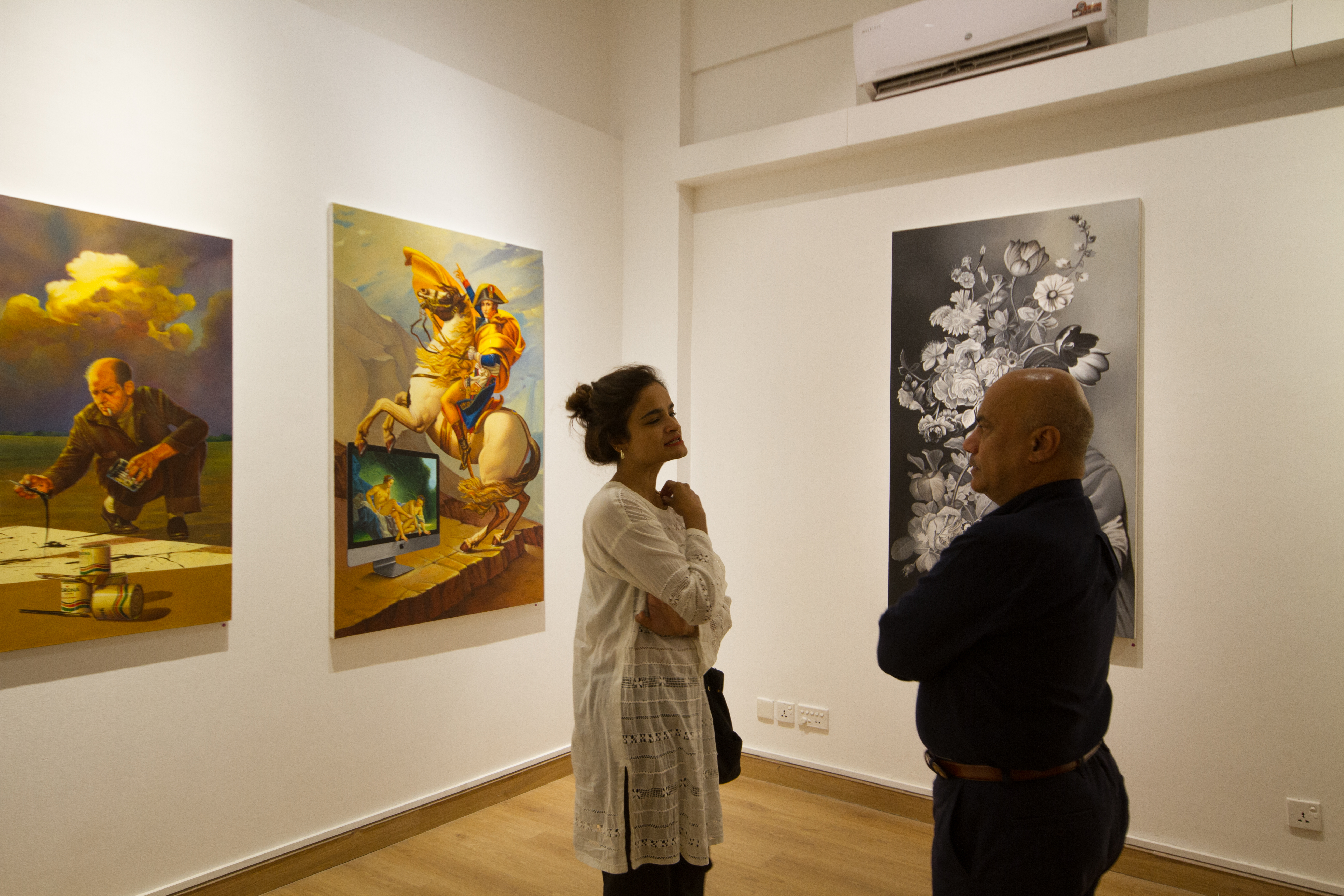 Artist Statement:
Mohan Das's come back from his seven years of hibernation is not only striking and majestic, but also a summary of his inspirations. Although the aura of a "Street-credo" persists in all of his work because of his natural inclination but since technology is populous on the streets therefore Das has merged different art periods with tech-tools. His salutation to the paintings of golden era is a futuristic approach of peeping into the memory lane of art history. Through this exhibition "Reminiscences", Mohan Das is not only doing psychoanalysis of the earlier artists as an aesthete, but also merging it with the contemporary life, while maintaining the conscious dignity of his own reflections. All paintings in the exhibition are oil on canvas of different sizes. This time he has not used triangular shaped canvases.
How does an artist's life come to a full circle? Mohan's journey starts from the streets of Hyderabad, but it doesn't end there. In the mid of his life, it seems that he feels the need to give his last hurrah to historic artistry. He has survived as a minority in Pakistan. His journey is long and difficult and shares the same pain of earning his dough where capitalism is the cake of every institution like a mafia. As most artists he has lived a conflicting life "to earn or to eat dignity." In these times, when every product comes in a box, with inflation and taxes. It is always the metallic resistance of an artist to keep himself from being deformed by remaining a non-conformist.
There is a rapid sense of closure enveloping his soul. As if it is now or never. Das has been through various medical problems over the course of years. Right now, Das is dealing with Polymyositis. A condition that may cause irreparable muscular damage. Misdiagnosis by certain doctors worsened his condition resulting in epistaxis. He also had an operation of gall bladder and is diabetic. He goes through constant pain in his eyes and head due to multiple medications taken over the years. However, all these impediments have not really stopped his enthusiasm for art. Through his lens he not only sees the past artists, but he sees himself in those artists. An artist within other artists. In his exhibition "Reminiscences", he has mixed his palate with interesting observations merging past with present. According to him, he was pondering on this idea since many years but dealing with Polymyositis served as a vehicle to complete his thematic dream. He feels as if his body is stopping gradually breaking apart and so is his life. Therefore, there is acute realism mixed with a pinch of abstraction. His work is startling and deep because he is almost in conversation with the artists of previous eras taking therapeutic treatment.  For example, the vibrant colours used by Frida Kahlo has been translated into colourlessness depicting Das's amaurotic condition of eyes through his painting "Nature-Descolorida".
His treatment to Vermeer's work is fascinating, he names it "Mirroring the Muse." Art historians claim that the "Girl with a Pearl Earring" does not consists of a pearl. Not only the identity of the girl is unknown, but the earring is also a polished tin. However, Das gives that earring the look of pearl and makes Vermeer wear a polished tin. The impact portrays the depth of intimacy between the artist and his muse with a smart idea. Das knows there connectivity in a secret way, it seems. Speaking of connectivity, in "Monet's Moments," Das represents the artist's response to the advent of technology. Instead of competing with the ability of a camera to record a moment of truth (or not so truth, nowadays) the 'Master of Impressionists', painted in an unusual way – like flashes of moments– focusing on light, colour and movement in a way that was not possible with the photography of that era. It seems as if Monet is stating Das that he can capture both time and space with the same speed as that of a camera. For Monet, time, and speed both was crucial, and Das understands this deeply. For Das this exhibition is pivotal both as an artist and as a human who is going through a sense of fading.
Mona Lisa has remained Das's most favourite subject throughout his career. This time, he has revealed the rustics in plain sight of the canvas and left "Mona Lisa" trapped in a photo. Calling it 'Still but Alive' Mohan almost reverses the idea presented through "Monet's Moments".  Da Vinci's study of anatomy works as Das's muscular pain killer. As Das says "his therapies are all these private conversation", which heals his anguish. The painting "Isolation with Caravaggio" has both sympathy and empathy. Das's telescope uses this painting to represent Caravaggio in the city of Karachi as well as Karachi within Caravaggio.  The painting is a mixed plate and bedazzles with coexistence of violence, turmoil, naturalism, and ecstasies that are present both in the city and the deceased artist.
Das is experiencing his state of mind and body with the artists of old epochs. It is not that Das chooses them but more like the silent artists are choosing him. There is no sequence, the choosing is irrespective of time period. His 'inspirations' never used technology, but Das admits the use of technology and draws an artistic comparison between the styles and thought processes. Das's complications of problems have compelled him to meet the artists from pasts. It is almost like the 'hurt' locked in the artist is taking refuge and medical treatment through the great art tradition. In this exhibition Das bedazzles us and we hope to see him more often in the galleries.
About Mohan Das:
I was born in Hyderabad, Sindh in 1976. I started my soul journey as a Cinema Board, Truck and Rickshaw painter with late Ustad Bhola, late Ustad Shamsheir, Ustad Yameen, late Ustad Asghar Ali, Rickshaw painters and Sir Fatah Hale Poto in Hyderabad. I was inspired by the work of Ustad Latif, also a Rickshaw painter based in Karachi. I have done my BFA (hons) and MA (hons) in Fine Arts, with 1st division, in 1999 and 2002, respectively, from the University of Sindh. I have been affiliated with various institutes as a teacher, such as the Karachi School of Arts, Asian Institute of Fashion Design, Greenwich University and other institutions for a total period of 10 years. At present, I am affiliated with Indus Valley School of Art and Architecture for (CEP) Program and different workshops while participating in many exhibitions and shows. In 2008, I had the honor of receiving the special Sadequain Award and an award by the PNCA in 2010. For the past 15 years, I have been running own art school, named The Fakhta School of Arts.