Vasl Artists' Association is affiliated with the Triangle Network, UK,
which is an international network of artists and art organizations.
The term 'Vasl' originating from both Urdu and Persian poetry, has an enriched deep association of a physical or transcendent connection between two. Inspired by this philosophy, Vasl Artist's Association functions as a platform for encouraging the freedom to express and nurture creativity. Established in 2001 and based in Karachi, Pakistan. Vasl is a not-for-profit organization that is also affiliated with the Triangle Network, which was founded in 1982 – a global network of artists and visual arts organization that support professional development and cultural exchange. Since its inception, more than 600 international and local artists have undertaken Vasl residencies, attended various workshops and created projects of significance.
Vasl's programs offer unique resources and spaces:
1. Vasl's facilities include a fully furnished apartment which is in the hub of Karachi. It includes Vasl's office, a lovely rooftop studio which accommodates various art affairs, ranging from enlightening artist talks to other programs such as immersive and productive workshops. With the assistance and guidance from fellow Vasl staff, both residents and visiting artists work collectively to create cultural and statement art pieces.
2. Vasl consistently runs their residency programs throughout the year. The Vasl Residencies and Workshops provide a space and supportive manifesto for professional artists and innovative minds, not only from Pakistan but international artists who are interested in expanding their horizons. The key components of Vasl's residency program includes access to Vasl studios, city orientation programs, constructive feedback and critique by established artists, research facilitations, as well as building strong connections with Vasl's thriving community of supporting institutions.
3. Taaza Tareen is Vasl's annual flagship residency which was founded in 2005. Taaza Tareen is a steppingstone for fresh graduates from various Pakistani art institutions who are in need of support in order to build their ideas into careers. Taaza Tareen residencies have supported over 50 artists at this formative stage of their professional life. Exceptional visual artists are awarded the 'Vasl Research Grant' by the Taaza Tareen residency, which has been selected by a panel of entrenched art professionals.
4. Vasl's Educational Outreach programs continuously expand the dialogue of art with diverse communities and localities. The main focus on education aids in developing critical thinking regarding art and its relation to modern day society which includes enlightening mentoring workshops for art educators to enhance their professional skills in the higher education sector. Additionally, Vasl has designed and published not only manuals but workbooks to help enhance art education with private and governmental institutions.
5. Vasl bolsters research and publications regarding contemporary art practices through publishing and sponsoring artist books, as well as incorporating writers and curators in our residencies. Undertaking the need for documenting the practice of artists, Vasl produces in-house publications such as our 'Conversations with Contemporary Pakistani Artists' series which documents and focuses on emerging Pakistani artists and their dialogues with society.
Rosa Maria Falvo
Rosa Maria Falvo is an independent writer and curator, specializing in Asia-Pacific and Middle Eastern contemporary art, as well as an International Commissions Editor for major arts publishers in Milan. Italian-Australian, she has attained degrees from Monash University in Melbourne, and Perugia University in Italy. Rosa is particularly interested in the power of the arts as vehicles for cultural education, appreciation, and international exchange.
Dr. Kamran Asdar
Dr. Kamran Asdar Ali is the Dean of the Mushtaq Ahmed Gurmani School of Humanities and Social Sciences at the Lahore University of Management Sciences (LUMS) and Professor of anthropology at the University of Texas, Austin. He is the author of Planning the Family in Egypt: New Bodies, New Selves (2002) and the co-editor of Gendering Urban Space in the Middle East, South Asia and Africa (2008), Comparing Cities: Middle East and South Asia (2009) and Gender, Politics, and Performance in South Asia (2015). His recent publications have been on gender, ethnicity, class politics, sexuality and popular culture in Pakistan. His more recent book is Communism in Pakistan: Politics and Class Activism 1947-1972 (2015).
Dr. Iftikhar Dadi
Dr. Iftikhar Dadi is an associate professor in the Department of History of Art at Cornell University. He is the author of Modernism and the Art of Muslim South Asia (2010) and the edited monograph Anwar Jalal Shemza (2015). Dadi has co-edited Lines of Control: Partition as a Productive Space (2012); and Unpacking Europe: Towards a Critical Reading (2001). Dadi serves on the editorial advisory boards of the journals Archives of Asian Art; Bio-Scope: South Asian Screen Studies; and Art Journal (during 2007-2011). He is advisor to Asia Art Archive (Hong Kong), and co-director of The Institute for Comparative Modernities at Cornell University.
Khurram Kasim
Khurram Kasim is on the board of directors of various companies of the Hasham Group, which is his family concern and was established by his grandfather Mr. Haji Hasham in 1948. Mr. Kasim started collecting contemporary Pakistani art in 1997. Over the past twenty years he has developed one of the most significant private contemporary art collections in Pakistan. Besides art, Mr. Kasim has a keen interest in design and in 2017 he launched his furniture design brand BRAT with an exhibition in Karachi. In 2017, he established the Khurram Kasim Art Foundation. KKAF's maiden initiative is to provide sponsorship for an artist from Pakistan to be selected for the Delfina Foundation residency in the United Kingdom every year.
Duraid Qureshi
Duraid Qureshi is the CEO and co founder of the HUM Network Ltd and one of Pakistan's leading entrepreneurs. Having completed his Masters in Business Administration from Lahore University of Management Sciences in 1997, he pursued an advanced management program at  Harvard Business School in 2009. Mr Qureshi has been the Chief Operating Officer  at Al-Abbas Sugar Mill Ltd. and Moomal Productions Private Ltd.
Nadeem Khalid, Director
Nadeem Khalid possesses more than ­­­­­­­­­35 years of professional experience of managing Herbion Group of Companies, which manufactures and markets natural medicines in more than 25 countries of the world, employing 1,200 people.
He is serving on the Board of Governors, WWF since 2014 and was the Commodore of Karachi Yacht Club in the year 2009 and its Honorary Secretary from 2007-2017. He is also serving on the board of Directors of Peace Niche/ T2F and VASL.
He has a Master's degree in Mechanical Engineering (Gas and Steam Turbines) from People's Friendship University, Moscow, Russia and is interested in literature, Art, Political Economy and History.
Adeela Suleman, Director
Adeela Suleman is a visual artist and educationist, received her BFA from the Indus Valley School of Art and Architecture, Karachi in 1999 and before that she did her MA in International Relations from Karachi University in 1995. Suleman was the Head of the Fine Art Department at the Indus Valley School of Art & Architecture from 2008 – 2019, Karachi, Pakistan. She is the founding member and Director of Vasl Artists' Association, Karachi, Pakistan.
Naila Mahmood, Director
Naila Mahmood is a Karachi based visual artist, writer and documentary photographer. Her work revolves around the complexities of urban spaces. She also does research based photographic projects. Her work has been shown nationally and internationally. She is a member of the Executive Council at the Indus Valley School of Art and Architecture. She is the Director of the Vasl Artists' Association
Vasl Working Team 2020 - 2021
Anosha Zia is a graphic designer and illustrator, graduated with a bachelor's degree in Communication Design from the Indus Valley School of Art and Architecture in 2016. She works as Vasl Artists' Associations' Creative Manager. Zia designs content for Vasl's social media, creates layouts, writes content and designs for Vasl publications and projects. Zia lives and works in Karachi, Pakistan.
Maria Hasan is a visual artist holds a BA in Fine Arts from Goldsmiths University in London. She is currently working as Project Coordinator at Vasl Artists' Association. Hasan supervises and updates Vasl social media, creating and editing the written content for social media and Vasl projects. She's currently working as a Vasl Project coordinator with communication and administrative tasks. Hasan lives and works in Karachi, Pakistan.
Sakshi Kumar is a visual artist living in Karachi, Pakistan. She has recently graduated from the Indus Valley School of Art and Architecture with a Bachelors in Fine Art. Her work is experimental and revolves around various mediums and artistic techniques such as miniature, painting, photography, computer graphics and digital art. Sakshi Kumar is currently working as an Assistant Project Coordinator at Vasl Artists' Association.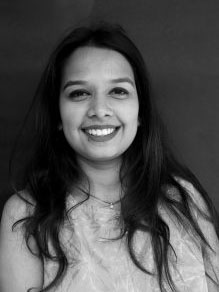 Razin Rubin is a visual artist. She received her B.F.A from the Indus Valley School of Art and Architecture, Karachi in 2016. Rubin has exhibited her work extensively in Pakistan as well as internationally. She is currently working part-time for Vasl Artists' Association as a Website Content Manager. Rubin lives and works in Karachi, Pakistan.
Patras Wilayat Javed has been working at Vasl Artists' Association since 2001. He maintains the upkeeping of  Vasls' apartment, prepares meals for resident artists, stocks groceries, manages the kitchen and general house-keeping. Javed lives and works in Karachi, Pakistan.
Khurram Shahzad has been working at Vasl Association since 2014. He is responsible for courier and deliveries through Vasl. He acquires resources and materials for all artists, accompanies all visiting artists to various sites around the city. Shahzad lives and works in Karachi, Pakistan.
Rental
Vasl Artists' Association utilizes the apartment primarily for Vasl residency programs, workshops and collaborators. However, upon availibility, the association does offer accommodation to those individuals who belong to art backgrounds and wish to stay in Karachi for their work and research. In such cases the rooms are rented out for affordable rates only when unoccupied by Vasl resident artists. All proceeds raised through the rental of our accommodation and studio spaces go towards supporting our programs.
Overview of facilities:
Two bedrooms with attached bathrooms,

WiFi and air conditioning,

Printing, scanning and other multi-media gadgets

Back-up generator

Kitchen, dining area and communal living space

Studio/workspace accessible to in-house artists

24 hours Assistant Staff.
Triangle Network is a global network of artists and arts organisations that support professional development and cultural exchange amongst artists, curators, cultural workers and organisations throughout the world.
Since 1982, Triangle has provided significant opportunities for over 4,500 artists through workshops, residencies, events, exhibitions, work placements and studio provision. This has led to the creation, association and partnership of Triangle Network projects and organisations in over 40 countries – an extensive, artist-focused infrastructure that continues to adapt and thrive.
More about Triangle Network