Artists in Creative Education Part 1
Behbud School, Habib Public School for Boys, Habib Girls School, Karachi High School
and St. Josephs School
2013
conducted by Bharti Patel, Emma Bowen, Mahtab Hussain, Mariam Iftikhar, Sara Khan, Sara Mahmood, Shaheen Ahmed.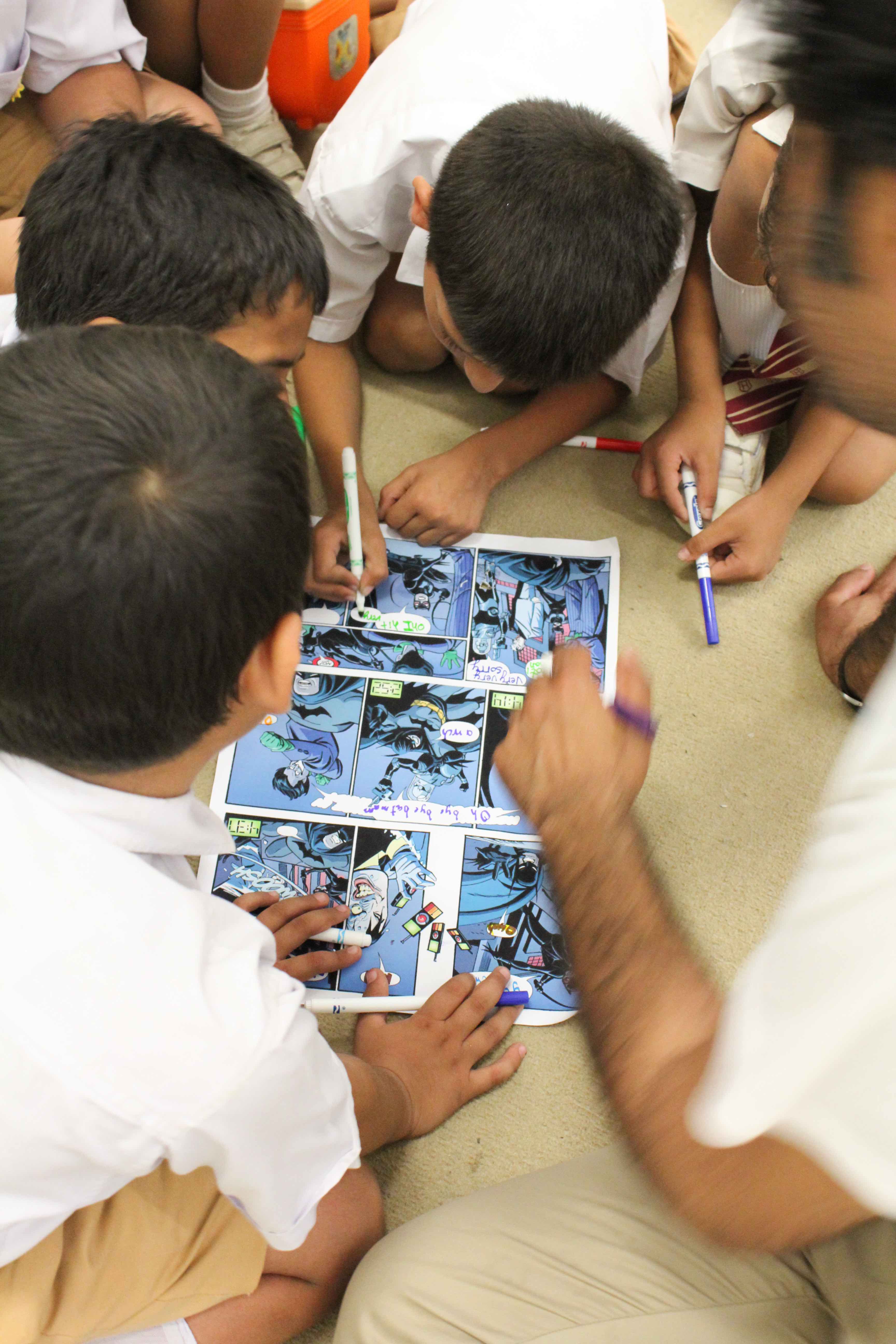 Creativity, Culture and Education (CCE) is an international foundation dedicated to unlocking the creativity of children and young people in and out of formal education.
CCE proactively seeks out partners around the world who they can design and implement programs with, which could improve the quality and reach of cultural education, and use culture and the arts to improve the quality and impact of general education. Their priority is to reach out to children and young people in the most disadvantaged communities. CCE does this by providing them with the space to nurture their own creative habits of mind: imagination, curiosity, discipline, resilience and collaboration and by deploying specially trained artists and creative practitioners to work as creative catalysts in the classroom alongside teachers. Their work is supported and developed by an extensive on-going program of research.
'Artists in Creative Education' is an international program by Creativity Culture and Education that in 2013 has been run as an international collaboration across the UK and Pakistan.
For the 2013 Workshop, CCE's Paul Collard and Di Fisher-Naylor each visited Karachi to visit schools participating in the project and to cement arrangements with the British Council and VASL. CCE's approach was quickly understood and warmly welcomed by teaching staff and there appeared to be no significant 'translation' issues in adapting CCE's approach to a radically different cultural context whilst there was an enormous appetite from school principals and teachers for new ideas and techniques In early May 2013 the Pakistani artists flew to the UK to meet their Birmingham-based counterparts and to participate in an intensive induction and training week at the Ikon Gallery in Birmingham, led and facilitated by Di Fisher-Naylor and Greg Klerkx from CCE's associates, Nimble Fish. The program aimed to support them as artists to work successfully in schools, developing creative approaches to teaching and learning.Following this training, Karachi-based architect Mariyam Iftikar, sculptor Sara Khan and ceramic artist Sara Mahmood shadowed projects by visual artist Shaheen Ahmed, photographer Mahtab Hussain and performer Bharti Patel who were working with five local schools in Birmingham. Their collaborative projects with pupils and teachers focused on addressing certain challenges within the school such as social inclusion, identity and learning behaviours. The Pakistani artists then used this learning to inform their projects at five schools in Karachi and in September the Birmingham artists and Ikon learning coordinator Emma Bowen completed the exchange by visiting the projects in Pakistan.