Faculty Mentoring Workshop
Indus Valley School of Art and Architecture
January 9 – January 14, 2017
conducted by Dr. Iftikhar Dadi, Dr. Will Glover, Dr. Kamran Asdar Ali, Dr. Yasufumi Nakamori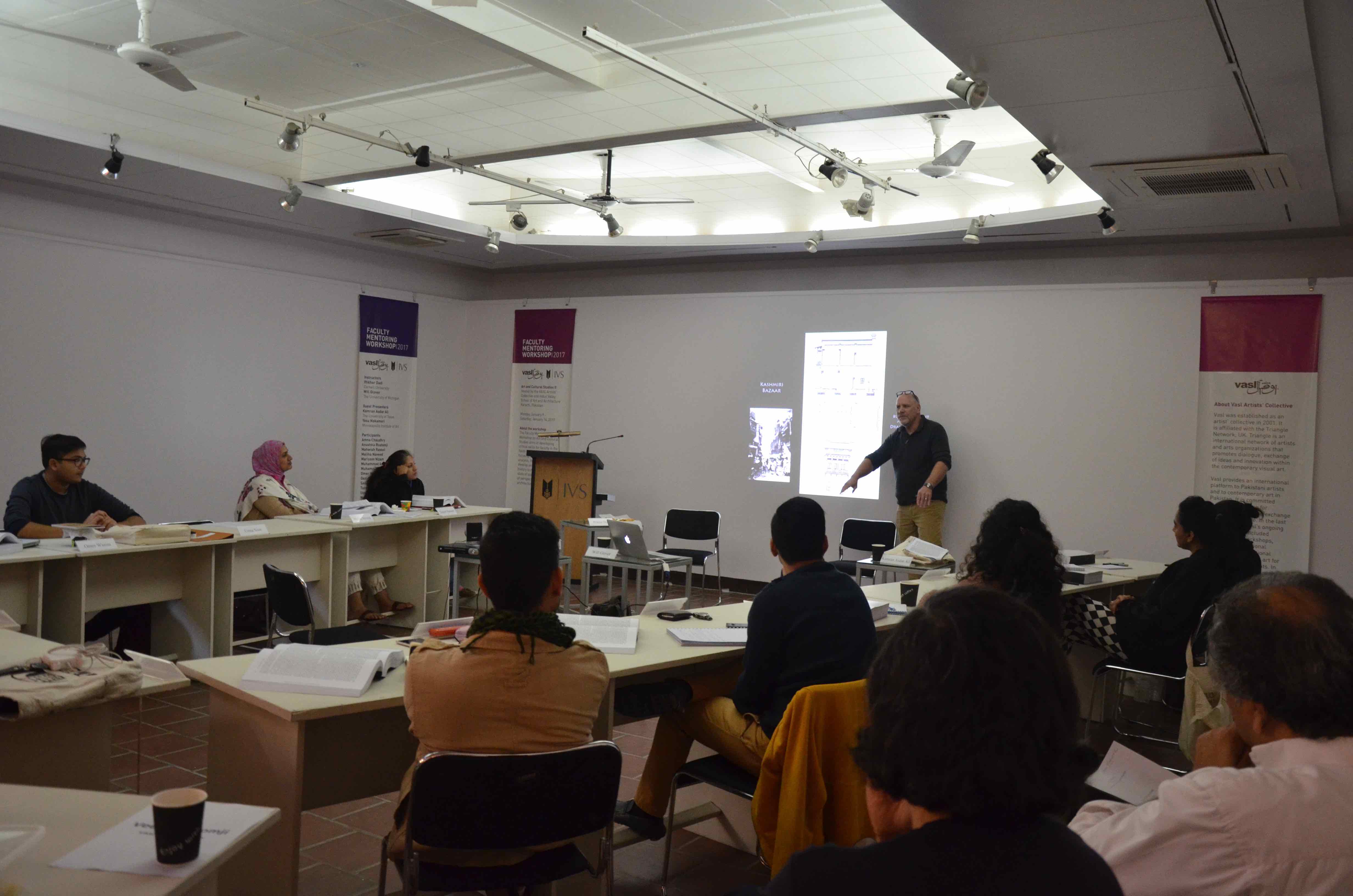 Monday, January 9, 2017 – Saturday, January 14, 2017 at the IVS Gallery of the Indus Valley School ofArt and ArchitectureSub event:'Photography in Gendai, 1968 as year zero in contemporary photography' by Dr Yasufumi Nakamoriheld at the IVS Gallery on Monday, January 9, 2017.
Conducted by: Dr. Iftikhar Dadi – Associate Professor, Department of History of Art, Cornell University, Dr.Will Glover – Associate Professor at the Department of History, University of Michigan, Ann Arbor, Dr. Kamran Asdar Ali – Associate Professor of Anthropology, Middle East Studies and Asian Studies at the University of Texas at Austin and Director of the South Asia Institute. Dean at the Mushtaq Ahmad Gurmani School of Humanities and Social Sciences, LUMS. Dr. Yasufumi Nakamori – Associate Curator, Museum of Fine Arts, Houston.
Following the success of the first faculty mentoring workshop in December 2015, Vasl Artists'Association and the Indus Valley School of Art and Architecture organized a second workshop aimingat developing critical skills for faculty in the fields of visual arts and cultural studies.Recognizing that cultural and visual analysis is very salient in the understanding of history and the current state of Pakistani society and beyond, Vasl along with Dr. Will Glover, Dr. Iftikhar Dadi and Dr. Kamran Asdar Ali designed a week long workshop aimed at helping junior and mid-career faculty members in the field of art and theory enhance their teaching qualities and curriculum development.The participants for the workshop included faculty from the higher education sector from all over Pakistan. These classes were focused on assisting the participants in developing their own curriculum and teaching at both undergraduate and graduate levels, equipping them with frameworks useful in furthering their individual research projects. The workshops included reading sin theory and practice, academic exercises on addressing classroom dynamics and a guest lecture by Dr Yasufumi Nakamori on photography. While the seminar did not solely focus on individual studio practices, its focus on methodological questions concerning history and theory proved useful for the independent artistic practices of the participants alongside their teaching commitments.
Participants : Maliha Naveed, Karachi, Omer Wasim, Karachi, Sadia Salim, Karachi, Uzma Noor, Karachi, Waheeda Baloch, Jamshoro, Muhammad Umer Rehman, Karachi, Mariyam Nizam, Karachi, Anushka Rustomji, Lahore, Mahwish Rasool, Karachi, Zohaib Zuby, Karachi, Amna Chaudhry, Karachi, Tazeen Hussain, Karachi, Qazi Fazli Azeem, Karachi, Muhammad Ashraf, Lahore.