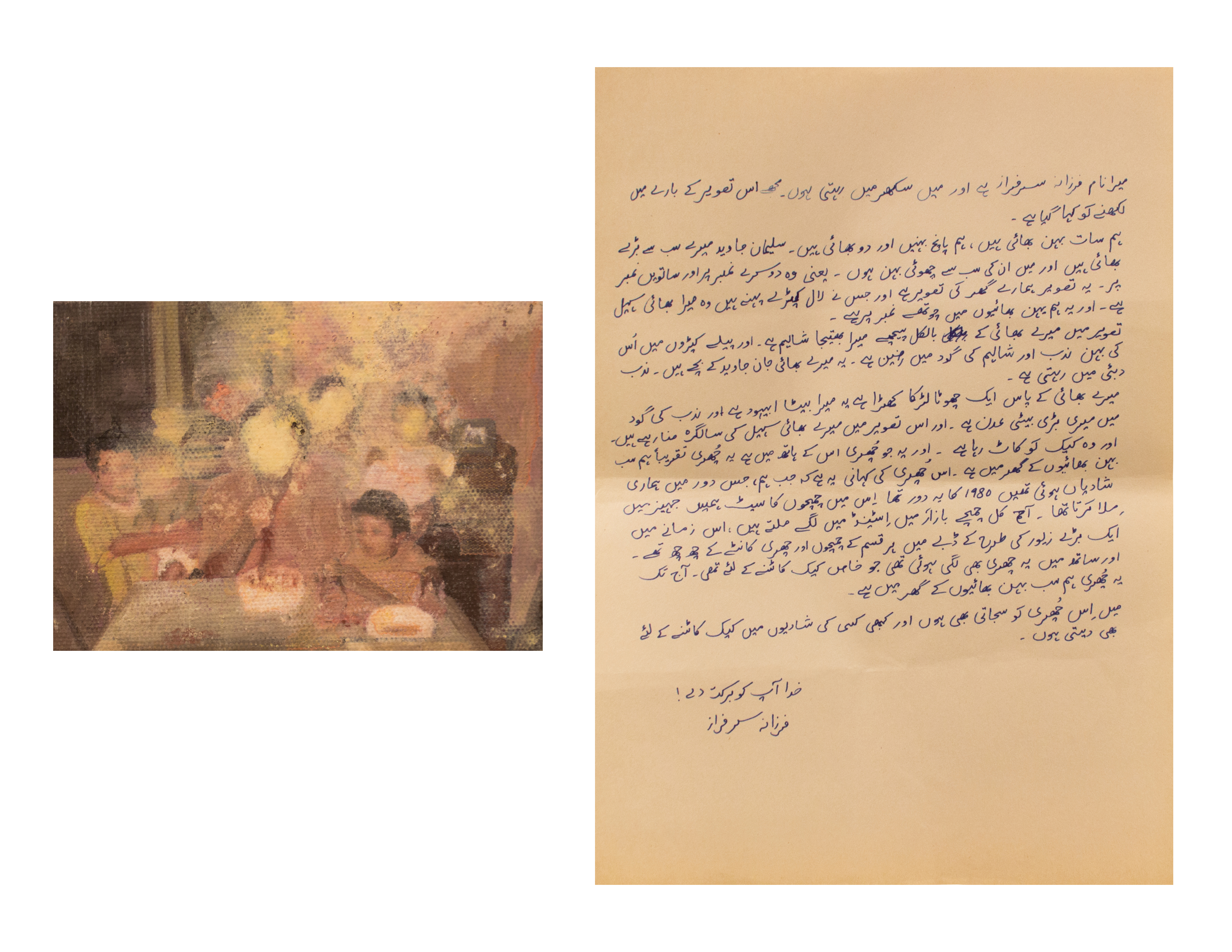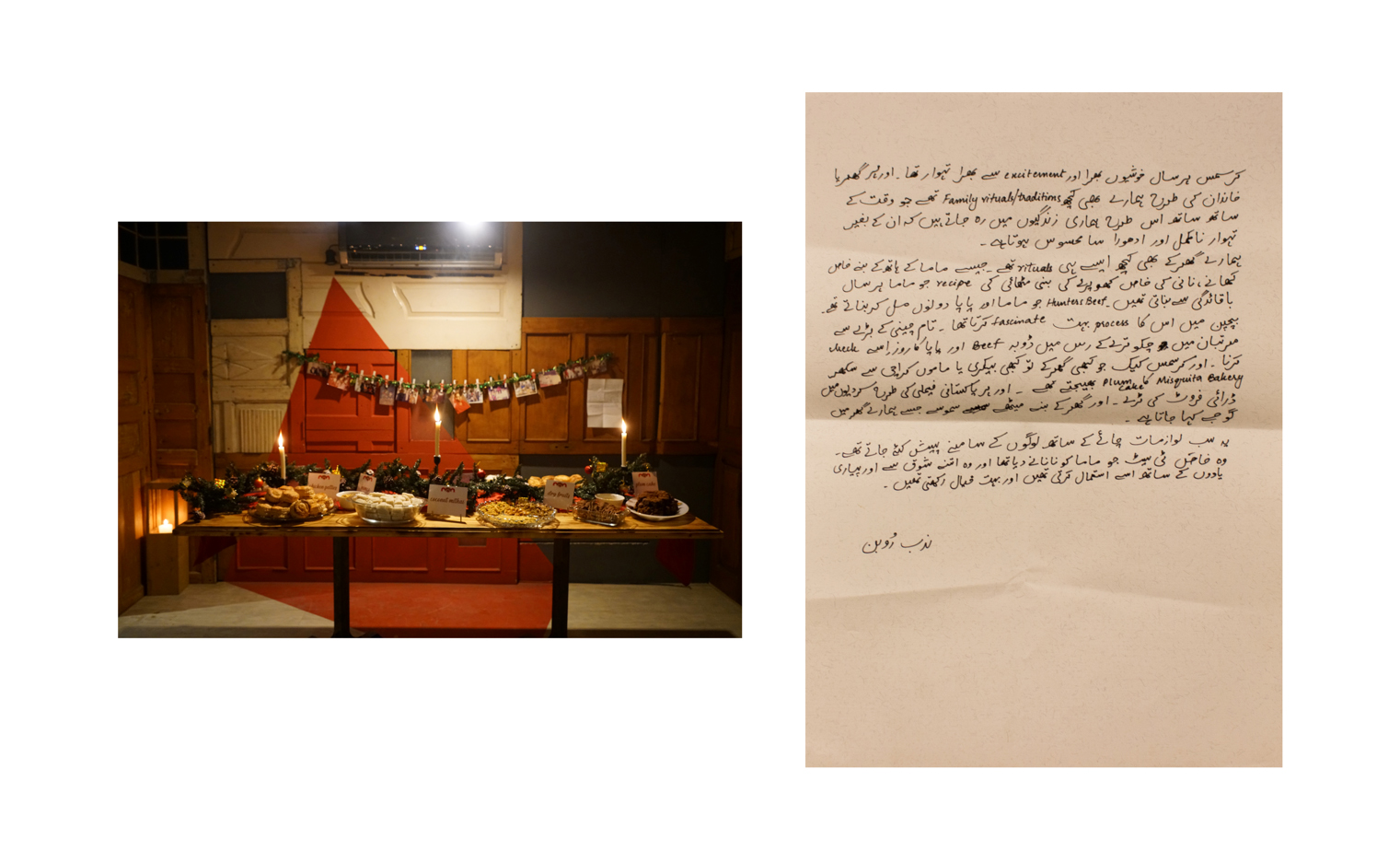 In the Loving Memory of… a one-day celebration, this day marks the third Sunday of Advent, which in the Christian Liturgical year is a time of preparation, celebration and reflection, leading up to Christmas and the Nativity of Christ.
The installation emerges as memoria to the lives of Sulaiman Javaid and Pansy Wilson, a Christian couple who found happiness together for 29 years in Sukkur. It recalls their lives through their unique Christmas traditions that since their passing, have faded.
Christmas is an important and joyous time of the year, and preparations begin as Advent does. On the first week of every December, Sulaiman and Pansy would send out handwritten Christmas cards to family, which is reiterated through the distribution of invitations for this exhibition.
On the Christmas day, the couple, along with their family would attend a religious service and upon returning home be greeted with confectionaries from their neighbors. Every Christmas, Sulaiman and Pansy happily entertained anyone who came to their door, regardless of faith, and laid out a spread of their own delicacies passed on through their ancestors. Now these same dishes are placed before the audience, a reminder of the hospitality and togetherness that once emanated from the home of the loving couple.
Objects and memories have been collected from the couple's home through a year-long research with their family members. These objects are composed within the installation, aided with the painted memories and voiceovers, contextualizing them in time. The paintings act as representations, struggling to manifest recollections to reality, though succeeding only as ghosts of what once was.
The project is a colocation of past and present, and therefore, this hybridity is magnified with the structure of the space. The space in itself is an amalgamation of various architectural additions that come together to create a new and altered reality much like the installation.
Ultimately, the tale of Sulaiman Javaid and Pansy act as a case study, through which there is an understanding of a larger context of the lives of minorities in Pakistan. While we invite the audience in through our simple form of introspection, there is a much greater and imperative lens through which this artwork should be viewed.
About Haider:
Haider Ali Naqvi | b. 1992
Haider Ali Naqvi completed his BFA with distinction from National College of Arts, Lahore where he was awarded Sir Percy Brown Award for Excellence in art history. He was the recipient of Imran Mir Art Prize in 2019. He has actively exhibited in numerous shows nationally and internationally. He has participated in multiple artist residencies including Avant-Garde and kitsch, Lahore (2015); 4th Sanat Residency, Karachi (2017); Single Artist Residency with Vasl Artists' Association, Karachi (2018) and Gasworks Residency, London supported by Rangoonwala Foundation and the Charles Wallace Pakistan Trust (2019). Naqvi is part of permanent faculty at Indus Valley School of Art and Architecture and lives and work in Karachi, Pakistan.
About Razin:
Razin Rubin | b. 1994
Razin Rubin is a visual artist who was born and raised in Sukkur, Sindh. She completed her BFA in 2016 with distinction from the Indus Valley School of Art and Architecture, Karachi, where she was also awarded the IVS Founders Award 2016 for her efforts. Rubin has exhibited her work both locally and internationally and has also participated in two artists' residencies, including 4th Sanat Residency with Sanat Initiative and Taaza Tareen 9 – Regional Green Dialogues under Vasl Artists' Association in collaboration with Henrich Boll Stiftung. Rubin is currently part of permanent faculty at Imperial Tutorial College, where she's also working as a Program coordinator for the department of Fashion Design. Besides this, she's also working part-time for Vasl Artists' Association. Rubin lives and works in Karachi, Pakistan.